If you've ever visited with our staff regarding improvements to your lakefront property, more than likely you've heard us mention the 448. So what exactly IS the 448?
The entire body of water known as Lake Athens, as well as 8' in elevation of beachfront surrounding the entire lake, is within the city limits of Athens, Texas. When at its fullest level, the lake is 440' above sea level. The state requires us to have an additional 8' in elevation as a flood buffer. This means that private property owners can only own property at the 448' elevation or above. Anything that is within that footprint is legally the property of the Athens Municipal Water Authority, and falls under the jurisdiction of the City of Athens. This can be a little confusing – particularly when your actual property is not located in the city limits.
When you first purchased your lakefront property, you should have been provided with a survey of the land. Typically, the 448' is marked on this survey for your reference. If that survey isn't convenient, here's a quick tip to determine where the 448' boundary is on your property . . .
Imagine a stick rising through the waters of Lake Athens up to a height of 8'. Now eyeball a horizontal line from the top of that stick, across the lake, and onto your property. The point at which the horizontal plane of the lake elevation hits your property is known as the 448'. This drawing will help to illustrate this . . .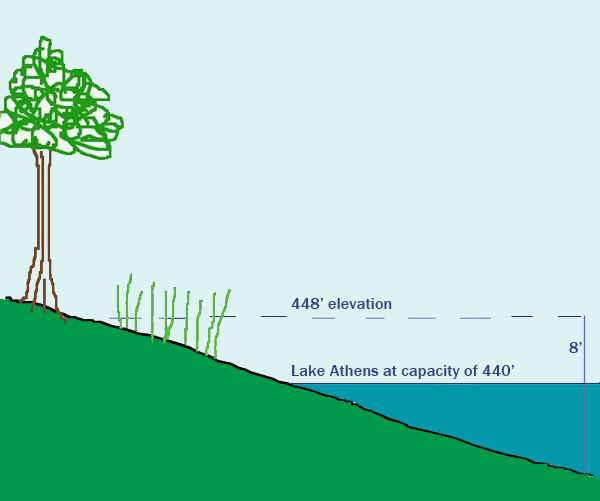 There are also apps available for Smartphones that will calculate elevation for you. One of the best is called MotionX GPS. It runs $0.99 to download. One word of caution – if you leave this or any other app running in the background of your phone, you will quickly lose battery strength.
The Rules & Regulations adopted by the board of directors of the Athens Municipal Water Authority provide guidelines on how, as a lakefront property owner, you are able to enjoy all of Lake Athens – even within the 448' boundary. For example:
Because the water and shoreline of Lake Athens is public, hypothetically you could have strangers park their watercraft at the shoreline below your personal property and make their way ashore. By paying INGRESS/EGRESS fees to AMWA each year, you have the right as a property owner/partner to ask them to leave.
A pier and/or boathouse are only good if they actually extend to the water. In order to do this, they must extend within the 448'. This is why AMWA requires an inspection and annual fee to have piers/boathouses.
No fireworks can be shot off from within the boundary of the 448'. Remember, this is considered to be within the city limits of Athens and it's illegal to shoot fireworks within the city limits – UNLESS you have a permit from the City of Athens.
In order to quickly identify where your 448' boundary lies, consider marking it in a discreet, yet attractive way – perhaps with a birdhouse or weathervane. This will help you when making future plans for your lakefront property.